Instagram is facilitating rampant grooming for sex trafficking and child sexual abuse, as well as adult fetishization of young girls, on its platform.
In response, three anti-sexual exploitation organizations from three different countries–the National Center on Sexual Exploitation (United States), Collective Shout (Australia), and Defend Dignity (Canada)–launched the #WakeUpInstagram campaign to call on Instagram to improve its related policies and practices.
Fast Facts:
According to survivor testimony, sex traffickers and child predators appear to be increasingly using Instagram to identify, groom, and exploit children.
Minors whose Instagram accounts are set to private can still receive unsolicited direct messages from strangers, which has led to several instances of sex trafficking and child sexual abuse.
There are countless comments by predatory adults on the photos of minors, where they leave sexually graphic comments, sexualize children, or solicit sex from children.
It's time to #WakeUpInstagram! Help me take action and tell Instagram to fix safety features to stop sex trafficking, child abuse, and pedophile-like comments on minors' photos! #InstaPimpsGirls Click To Tweet
Join the international joint campaign to call on Instagram to make three vital policy improvements:
Instagram must change its settings so that strangers cannot direct message minors,
Instagram must fix its algorithm to proactively remove sexualizing or sexually graphic comments on minor's photos,
Instagram must update its reporting system so that if someone is reporting a sexual comment on a minor's post it can be reported as such. The "harassment/bullying" selection does not capture the fact that these comments come from adults who are grooming/sexualizing/harassing a child.
Instagram should investigate accounts that are solely dedicated to posting images of minors, particularly those that are said to be 'modeling' pictures to ensure they are not promoting sexualized photos or attracting sexualized comments.
WARNING: There are graphic images and text descriptions shown in these sections.
POSSIBLE TRIGGER.
The Failures of Instagram Privacy Settings
It takes four clicks to turn on privacy settings, which are not intuitive. Please move the privacy settings to the first page of the menu, potentially under "Your Activity" in order to promote awareness of this safety feature.
To improve its systems, Instagram should:
Make privacy settings more visible in order to increase awareness of safety tools;
When an account is private, remove the ability for strangers to send unsolicited direct messages to that account and remove the ability for that person's account to be visible in the Likes or Comments on other posts—similarly to how Twitter hides the names of accounts when they are set to private;
Create an alert that appears in the direct messages area whenever a new person sends a user a direct message – which alerts the user to the fact that they can report accounts. Many teenagers and adults are unsure how to define sexual harassment, so we encourage Instagram to also include a link within that safety alert to the following definition of sexual harassment: Sexual harassment includes but is not limited to, unwanted sexual advances or attention including physical actions, speech that is sexually provocative, and unsolicited sending of or requests for pornography or nude images/videos. This kind of notification could mirror Instagram's efforts on self-harm as outlined here: https://wellbeing.instagram.com/safety by also giving them the option to connect with services;
Grooming and Sex Trafficking on Instagram
Examples of Coercion in Posting Pornographic Videos or Ads for Sex Acts on Instagram
Several 15-year-old girls who survived sex trafficking told NCOSE that girls were often forced to perform sex acts, or nude dances, on Instagram Live in a manner that made it look as if they were consenting during the act even though their trafficker stood in the corner the whole time.
Another young girl shared her story online about how being direct messaged by a pimp on Instagram as a minor eventually led to her being sold for sex on the streets. https://youtu.be/itqJIr3Osaw
Another anonymous girl shared with NCOSE that she was solicited on Instagram to send nude images, and after she did, that person used it to blackmail her into sex trafficking.
A California man has been charged with sex trafficking after forcing a San Jose woman he met on Instagram into a life of prostitution all over the western United States, authorities say.
A Texas pimp/trafficker created a dedicated Instagram page for selling 15-20 women for sex. "Get a glimpse of the life of these Macknificent ladies!" he wrote. He also created a Facebook page for the women with a "book now" option. Police referred to the women in his Instagram posts as being "controlled" by him. According to Felicia Grantham, human trafficking coordinator for the Fort Worth Police Department, there have been "53 at least semi-identified victims." https://www.star-telegram.com/news/local/crime/article219689045.html
A Nashville man was been sentenced to 15 years in federal prison in a sex trafficking case involving a 13-year-old girl. He met Instagram in 2016 and recruited her on that platform. https://www.newschannel5.com/news/nashville-man-gets-15-years-in-child-sex-trafficking-case
Examples of Grooming/Soliciting Direct Messages
Domestic sex trafficking survivor Courtney Litvak has spoken openly about how her grooming started through Instagram direct messaging and Snapchat private messaging and an The Epoch Times article about her story reported data from Tammy Toney-Butler, an anti-human trafficking consultant for Path2Freedom, which shows that 55% of domestic sex trafficking survivors who entered "the life" in 2015 or later met their trafficker for the first time using a mobile app, website, or text. https://www.theepochtimes.com/trafficking_3152248.html
Two Californian youths aged 15 and 17 narrowly avoided becoming victims of a predator they met on Instagram thanks to an American Airlines agent. https://www.independent.co.uk/news/world/americas/instagram-sex-trafficking-plot-stopped-airline-agent-denice-miracle-a8216726.html
A child advocate ally created a 15-year-old girl account, which liked a few celebrities and "cute boys" accounts.  Within two hours she got a message from a man soliciting for nude pictures and send her some.
One father uncovered a sex-trafficking scheme where an Instagram account posing as a young boy would contact young girls, including his daughters: "Bruce was a "friend" to quite a few of the girls in my daughter's circle of friends and they would chat daily. Bruce also had many friends that were being introduced to the circle and they all began to chat through Instagram...he unknowingly was luring young girls into his circle as prey for the men to pick and choose from. The circle of Bruce's friend list reached the globe and his over 2k followers were nothing more than a smorgasbord of young unaware children these men were chatting with." https://faithit.com/dad-sex-trafficking-scheme-daughter-instagram/
A young college student told NCOSE there are accounts on Instagram targeting her sorority friends attempting to groom them for commercial sexual exploitation in a "sugar baby" relationship. Given insurmountable student debt facing many college students, they are particularly economically vulnerable to this kind of sexual exploitation.
Police: Alleged Gwinnett sex trafficker met runaways on Instagram https://www.ajc.com/news/local/police-alleged-gwinnett-sex-trafficker-met-runaways-instagram/YJtpHdkRvR0Ust7395tO3O/
Rhode Island parents' daughter went missing, and they "learned from her friends a few hours later that she had been communicating with a man on Instagram. At once, Hewartson said he realized they were dealing with a sex trafficker or pedophile. The sheriffs elevated the case from that of a missing person to a suspected wilful abduction. A neighbor and a family member reported a bearded man in a black car slowly passing back and forth along the country road at the time the teen went missing....They couldn't reach anyone at Instagram to ask for assistance...On Tuesday morning, they tracked the teenager to Warwick." https://www.providencejournal.com/news/20190808/father-of-abducted-teen-girl-grateful-for-second-chance--audio
This father in the video below discusses his 13-year-old's experience on Instagram. A stranger who looked similar to another teenage girl started talking to her in an innocent way. But then later they started asking if she or any of her friends wanted to go "on a date" particularly "if they need money." The person also tried to find out the location of where the girl lived. This example of grooming for likely sex trafficking was documented by Defend Dignity in Canada.
Report by BBC: "Slave markets found on Instagram and other apps" https://www.bbc.com/news/technology-50228549
Pedophile-Like Comments on Young Girls' Photos
Due to the graphic and disturbing nature of the images and text, we've removed them. Please contact us for more information.
Are You A Survivor of Sex Trafficking?
Visit SexualExploitationLawsuits.com to Find Resources and Options for Legal Recourse.
Public Health Harms of Pornography
Download the research summaries of studies on the harm of pornography
Share Your Story
Sharing experiences may be a restorative and liberating process. This is a place for those who want to express their story.
Help educate others and demand change by sharing these on social media: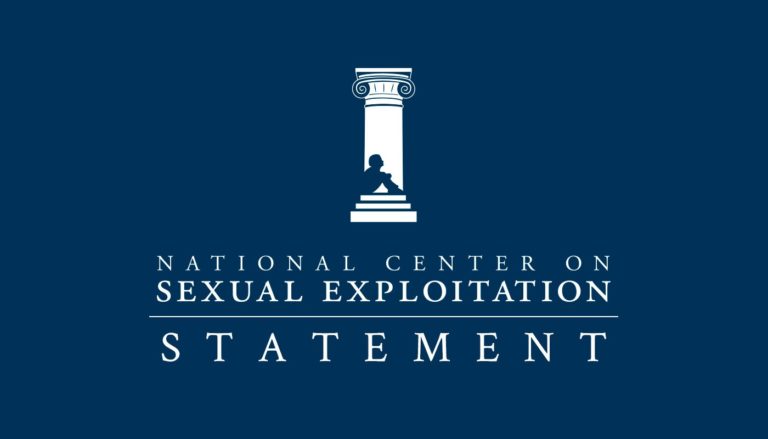 California bill AB 262 will provide one of the "best forms of exit services" for victims of human trafficking
Read More »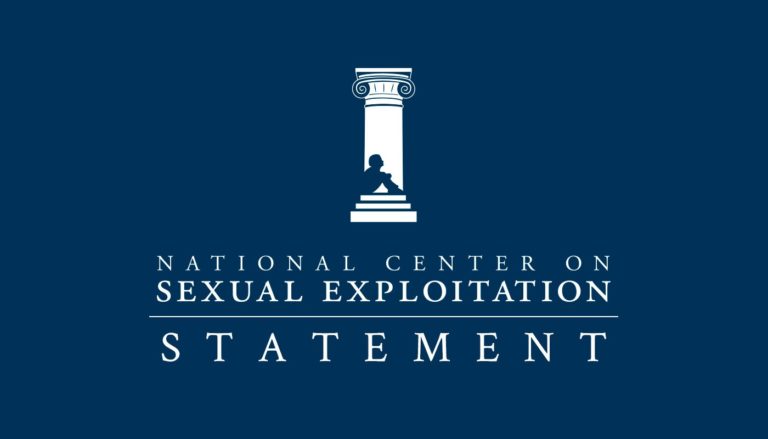 NCOSE Urges Facebook to Cancel Introduction Completely, Citing Health and Safety Concerns  Washington, DC (September 27, 2021) – The National Center on Sexual Exploitation (NCOSE) welcomed Facebook's decision to pause plans to introduce Instagram for children under age 13, and urged the social media company to completely cancel its plans.   "Instagram for Kids was
Read More »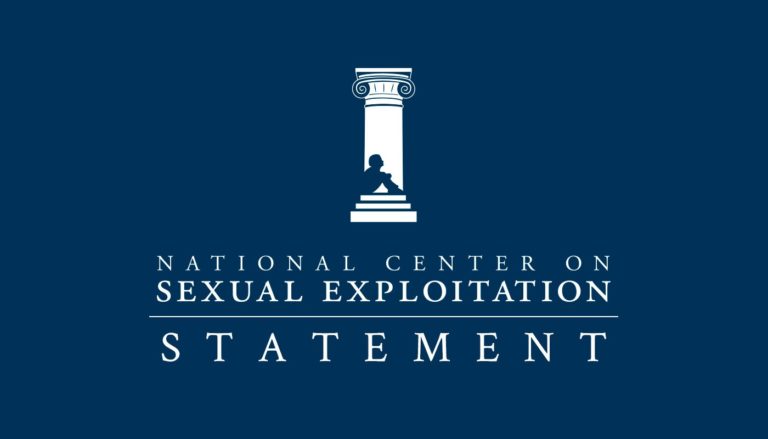 Washington, DC (September 23, 2021) – The National Center on Sexual Exploitation (NCOSE) is recognizing VidAngel, a streaming video company that "provides a way to skip or mute things you don't want to see or hear in movies and TV shows" in its Dignity Defense Alert, a campaign recognizing the people, companies, nonprofits, etc. who
Read More »