In recent years, Facebook has taken measures to curb exploitation, but they have a long way to go as a global social networking site with 2.8 billion monthly active users and 1.84 billion daily users as of 2021. Unfortunately, Facebook is still a popular platform to trade and buy child sexual abuse materials (CSAM, i.e. child pornography), and it's also a hotbed of online grooming for child sexual abuse, pornography, prostitution, and sex trafficking.
Most urgently, we are concerned about Facebook's plans to roll out sweeping end-to-end encryption which would aid child abusers and sex traffickers to avoid detection and accountability by law enforcement.
These issues are vital to address, given the harm to victims of sexual abuse going unchecked on popular platforms like Facebook.
Facebook's Pursuit of End-to-End Encryption
Background Information: 
End-to-end encryption (E2EE) is "a method of secure communication that prevents third parties from accessing data while it's transferred from one end system or device to another." In the age of hacking and concerns about online privacy, the appeal of this technological tool is clear.  
Unfortunately, end-to-end encryption can also act as a cloak for criminal activity, including trading child sexual abuse material and sex trafficking, to go on unseen and therefore unreported. As sexual abuses have proliferated online, most technology companies rely on scanning for known child sexual abuse materials, for example, and this would not be possible for end-to-end encrypted messages. 
2020 data from the National Center for Missing and Exploited Children (NCMEC) showed that Meta's platforms accounted for 20.3 million referrals of child sexual abuse material – 94% of the total in that year. According to NCMEC, 70% of referrals by Meta platforms could be lost under end-to-end encryption, the equivalent of 14 million reports. 
When law enforcement and proactive private company algorithms and artificial intelligence are unable to detect, report, and block sexual abuses transmitted between people online, it creates an environment that fosters and welcomes such abuses—and it leaves victims shrouded in darkness, unable to be detected or identified by law enforcement. 
Facebook's Plans and The Global Push Back: 
In 2019, Facebook's CEO Mark Zuckerberg first announced that they planned to pursue planned end-to-end encryption for Facebook Messenger, WhatsApp, and Instagram. Zuckerberg conceded that by pursuing end-to-end encryption, "we face an inherent tradeoff because we will never find all of the potential harm we do today when our security systems can see the messages themselves." 
In response to this threat to public safety, law enforcement leaders from America, the United Kingdom, and Australia have sent Facebook an open letter publicly opposing Facebook's actions. As stated by Cyrus R Vance, former District Attorney for New York County, "Simply put, Facebook's planned end-to-end encryption will make it harder to detect – and stop – child abuse and similar crimes… A world in which children can be recruited and groomed on Facebook – with no hope of law enforcement intervention – is a world in which we, collectively, are failing our children." The UK home secretary, Priti Patel, has described Facebook's push for end-to-end encryption as "simply not acceptable" in light of the tradeoffs of child safety. 
Survivors and advocates around the world have also called for common-sense safety measures to be put into place to ensure these plans do not make it easier for child sex abusers to commit crimes. For example, Rhiannon-Faye McDonald, an abuse survivor and subject matter expert at the Marie Collins Foundation, stated: 
When people say this is about privacy, I couldn't agree more. I have a right to privacy as a survivor of child sexual abuse. My abuse was recorded with photos and videos which may be out there now, as I speak. We want an assurance that E2EE [end-to-end encryption] will not enable and make it easier for child sex abusers to harm children either directly by finding and grooming them, or indirectly by circulating child sexual abuse material.
In November 2021, Meta (the parent company of Facebook, Instagram, and WhatsApp) indicated that it would postpone encryption plans until 2023, as it worked out some of these issues.  
Despite its announcement to postpone these actions, Facebook Messenger enacted opt-in end-to-end encrypted chats, including group chats and calls, and more, in January 2022. 
Antigone Davis, Global Head of Safety at Meta, said that the company would be able to detect abuse through non-encrypted data, account information, and user reports the same way they do so on the already encrypted Whatsapp platform… unfortunately, it is clear from law enforcement reports that sexual abuse is thriving on Whatsapp thanks in large part to encryption. Whatsapp is hardly a model to follow. Learn more about the problems on Whatsapp here.
We are calling on Facebook and Meta to listen to the survivors, law enforcement, and subject matter experts who are all calling for a more nuanced approach to ensure child sexual abuse victims' privacy and safety is not sacrificed in the pursuit of encryption.  
Is NCOSE Opposed to Encryption or Online Privacy?
Privacy is a right that ought to be respected and upheld, and we understand the importance of concerns about online privacy. Online privacy cannot, however, be absolutely upheld to the point of egregiously impinging upon the rights of children.  
Article 24 of The Charter of Fundamental Rights of the European Union states that "[c]hildren shall have the right to such protection and care as is necessary for their well-being." It further states, "In all actions relating to children, whether taken by public authorities or private institutions, the child's best interests must be a primary consideration."  
Child protection tools provide highly targeted intelligence through collecting evidence indicating the strong likelihood that crimes are being committed or attempted against children. This allows for an intervention that may save a child's life or prevent serious harm.  
The concept of online privacy was never intended to provide immunity and impunity for child sexual abusers. 
We believe there are ways to pursue online privacy, while also safeguarding children, through innovation. Innovation in this area is on-going, and it should be rigorously invested in by the technology industry.  
WARNING: There are graphic images and text descriptions shown in these sections.
POSSIBLE TRIGGER.
Are You A Survivor of Sex Trafficking?
Visit SexualExploitationLawsuits.com to Find Resources and Options for Legal Recourse.
Public Health Harms of Pornography
Download the research summaries of studies on the harm of pornography
Share Your Story
Sharing experiences may be a restorative and liberating process. This is a place for those who want to express their story.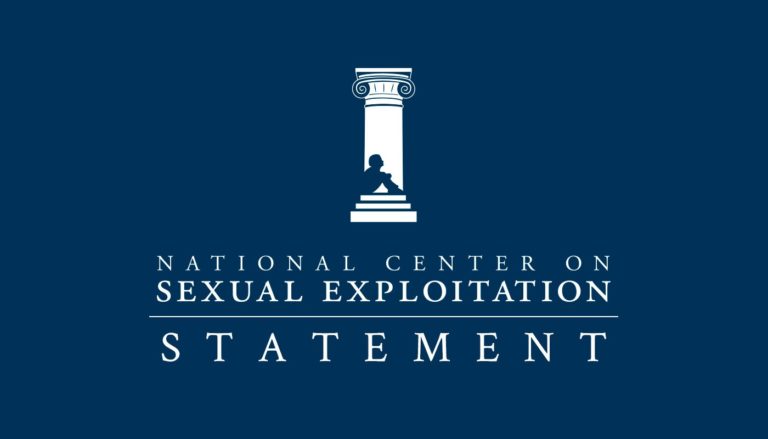 NCOSE Urges Facebook to Cancel Introduction Completely, Citing Health and Safety Concerns  Washington, DC (September 27, 2021) – The National Center on Sexual Exploitation (NCOSE) welcomed Facebook's decision to pause plans to introduce Instagram for children under age 13, and urged the social media company to completely cancel its plans.   "Instagram for Kids was
Read More »