Fifty Shades is not a risqué, passionate romance.
It is a story of sexual and domestic abuse.
The Fifty Shades of Grey book series and film franchise cultivates and normalizes rape myths, psychological grooming for abuse, and sexual violence. In the age of #MeToo, the messages of Fifty Shades are not only in poor taste, they are socially irresponsible.
Join our campaign and take action to combat this harmful franchise as the third film in the series, Fifty Shades Freed, opens in theaters on February 9, 2018!
This campaign, now joined by dozens of groups around the world, is directed by  London Abused Women's Centre, Canada, Collective Shout, Australia, and Culture Reframed and the National Center on Sexual Exploitation, USA. See below for a partial list of other partners.
WHAT IS THE BOOK & FILM ABOUT?
The Fifty Shades trilogy follows wealthy and powerful businessman ChristianGrey as he meets Anastasia Steele, a virginal college student lacking confidence, and woos her into his BDSM (sexual sadism or torture sex) world and "red room of pain." The relationship maps onto what would be considered an abusive relationship rife domestic violence in the real world. Christian puts Ana under contract to serve as a sexual "submissive" and uses intimidation, coercion, humiliation, violence, stalking, manipulation, jealousy and other controlling behaviors to groom Ana and keep her under his domination. Ana is consistently isolated, threatened, and manipulated, yet she comes back to Christian time and time again because she thinks her love can change him. As the story progresses, Ana, who was first fearful and disturbed by Christian's controlling behaviors and dark sexual practices, gradually becomes desensitized to his harsh treatment. These are hallmarks of abusive relationships.
The franchise advertises it as a love affair and erotic sex—but it's really about grooming a young girl into a cycle of abuse, violence, and sadistic sex.
HOW IS THIS IMPACTING CULTURE?
The Fifty Shades franchise glamorizes and legitimizes both sexual and domestic violence. In real life, women in these situations don't end up like Anastasia—they end up at a woman's recovery agency, on the run from their abuser or, sometimes, dead.
The Fifty Shades franchise sends the message to women that they can "fix" violent, controlling men by being obedient and loving. Tragically, these types of beliefs often persuade abused women to stay in unhealthy or destructive relationships. The Fifty Shades books and films are socially irresponsible for confirming, and encouraging, these incorrect myths of abusive relationships.
Public opinion makers and cultural leaders who promote these books and films also romanticize and thus legitimize the following themes as acceptable in intimate relationships: coercion, humiliation, degradation, stalking, isolation, manipulation, physical torture, intimidation, possessiveness, jealousy, emotional and sexual/physical abuse.
Our pornified culture is already affected by violent acts in mainstream porn and now, with the help of Fifty Shades of Grey, this violence is being further legitimized and broadly accepted by women. Now men don't have to entice women to engage in the violent acts that they regularly consume through pornography because Fifty Shades of Grey is doing it for them.
The popularity of Fifty Shades of Grey among women sends a message to men that violent and degrading sex is what women really want. For a more realistic look at how a sexual encounter between a sexually abusive, egomaniacal multi-millionaire and a young, vulnerable woman would end for the young woman, look no further than George Soros' hedge fund manager, Howie Rubin. Rubin allegedly beat and raped three different women in his creepy penthouse BDSM dungeon, according to the lawsuit one woman filed against him.
The details of that case are horrific, so why is Fifty Shades glamorizing this type of abuse as mere entertainment in the age of #MeToo and Harvey Weinstein? The promotion of sexualized violence against women should be intolerable in a society that strives for mutual respect in health relationships and gender equality.
Pressure the DOJ to Enforce Obscenity Law
Public Health Harms of Pornography
Download the research summaries of studies on the harm of pornography
Tell DOJ to Investigate SeekingArrangement
Ask the DOJ to investigate SeekingArrangement for facilitating sex trafficking and prostitution.
Help educate others and demand change by sharing these on social media: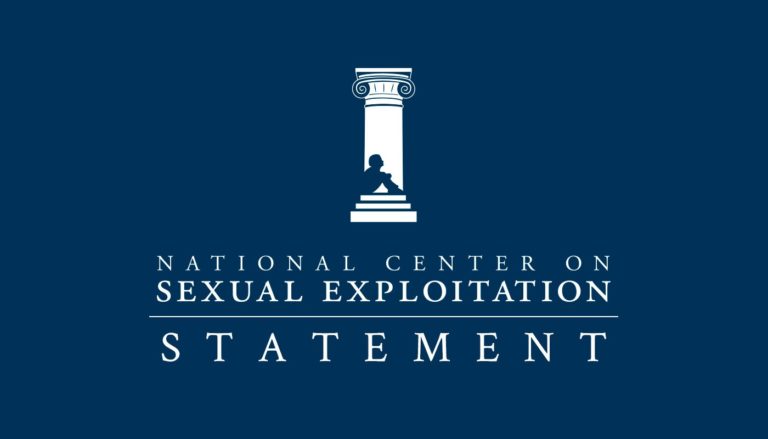 WASHINGTON, DC (September 7, 2023) – The National Center on Sexual Exploitation (NCOSE) commends Snapchat for making comprehensive changes to improve child safety as a direct response to being named to its 2023 Dirty Dozen List. As a result, NCOSE is moving Snapchat to its Dirty Dozen "Watch List." "Snapchat
Read More »
90% of young people in 20+ countries are now better protected!
Read More »
Ever heard the expression "Third time's a charm"? For Discord, a three-peat Dirty Dozen List target, it's turned out to be true!
Read More »