On Friday, January 21, 2022, the NCOSE Law Center, together with co-counsel the Haba Firm (Florida) and the Matiasic Firm (California), were granted permission to cross-appeal by the United States Court of Appeals for the Ninth Circuit Court. 
By way of background, in August of 2021, the legal team won a significant victory, when a federal district judge allowed federal claims for benefiting from sex-trafficking to go forward against Twitter. Twitter sought permission to appeal that decision. The legal team responded by seeking permission to appeal the judge's dismissal of federal claims concerning direct sex trafficking and possession and distribution of child sex abuse material (i.e. "child pornography"). 
The Ninth Circuit's order granting permission for both appeals means that one of the most influential appellate courts in the country will consider two of the most important legal protections for survivors of online sexual abuse and sexual exploitation. This is a huge step forward in the movement to combat Child Sexual Abuse Material, the continued implementation of the Fight Online Sex Trafficking Act (FOSTA), as well as clarifying what Section 230 of the Communications Decency Act means for holding big tech and social media platform under federal law.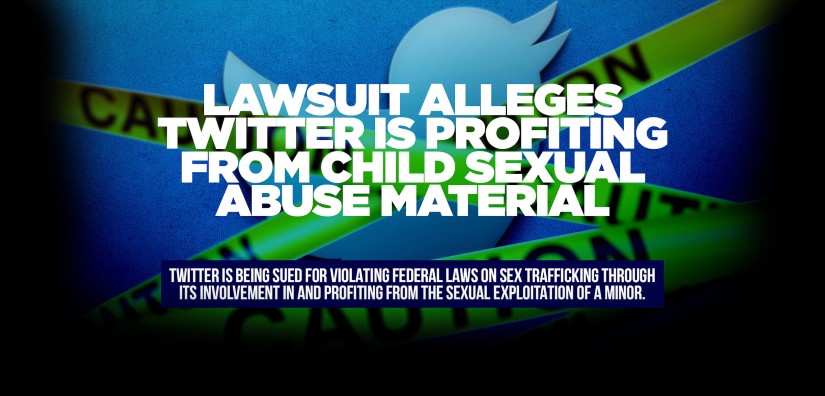 Context of the Lawsuit Against Twitter
John Doe #1 was 13 years of age when he was involved in a social media conversation with someone he believed to be a 16-year-old girl. At the time, this alleged girl began to send inappropriate pictures of "herself" and groomed Doe with promises of more photos if he began to send "her" pictures of himself (a.k.a. child sexual abuse material or CSAM). It escalated to where the "girl" was asking for him to involve his friend, John Doe #2 as well, who was also a minor. At this point, the "girl" began blackmailing both boys by threatening to expose them to their family, friends, and pastors if they did not comply with exploitive demands. John Doe #1 finally managed to cut off all communications with the individual(s) behind the account. Both boys hoped it the bad experience was over, but it was only beginning.
Three years later, when they were both 16, both boys were informed by classmates that CSAM of them was circulating on Twitter. John Doe #1 located two accounts that had been sharing the CSAM photos and videos on Twitter even though child sexual abuse material (known colloquially as "child pornography") is supposed to be prohibited by Twitter. Both boys were was devastated emotionally and John Doe #1 even contemplated suicide at times. John Doe #1 and his mother contacted Twitter urging them to take down the posts since it was CSAM and was furthering his exploitation. Even after they had confirmed who he was and that he was a minor, Twitter responded that they reviewed and did not find anything against their community guidelines in the tweet that John Doe #1 had flagged for removal.
Twitter not only kept the post up with over 160,000 views: they profited from it. The more engagement there is with a tweet, the more money Twitter makes on it. It was not until an individual with the Department of Homeland Security stepped in on Doe's behalf that the content was finally removed.
John Doe #1 and John Doe #2's story shows how Twitter knowingly allowed child sexual abuse material to circulate on its platform and, as such, enabled and profited from the online sex trafficking of a child. Tragically, Twitter's so-called "Zero Tolerance Policy" appears to be set aside when it comes to the sexual exploitation of minors such as Doe and others. It's obvious that Twitter cares more about its profit margins than it does about protecting children online.
If Twitter isn't willing or able to hold itself accountable to the law, then who is?
In addition to this lawsuit being filed on behalf John Doe #1 and John Doe #2 by the NCOSE Law Center and partnering law firms, survivors are speaking out and standing up to Big Tech companies like Twitter to hold them accountable.
Twitter continues to enable abuse while profiting from the exploitation of children. That cannot be allowed to continue, and you can be a part of justice being realized for these young men and others like them.
Learn more about the NCOSE Law Center's active cases and sign petitions here.