Amid worldwide economic uncertainty due to the global COVID-19 pandemic, Seeking Arrangement is doing better than ever, leeching off of the vulnerable.
Seeking Arrangement is a sugar dating website that describes itself as creating "relationships on your terms;" terms which the website conveniently does not explicitly define, placing themselves in the gray area of facilitating online commercial sexual exploitation.
But, in most cases, "sugar dating" is just another term for prostitution.
Research has found that "the majority of sugar dating and other similar sex for money 'mutually beneficial arrangements' are illegal, as they are forms of prostitution, and state prostitution statutes should reflect this reality, regardless of the wealth of the parties involved."
Seeking Arrangement's facilitation of sugar dating is taking advantage of socioeconomically vulnerable populations amid COVID and the student debt crisis.
reported that "World-wide [Seeking Arrangement] has seen a member increase of 74% compared to this same time last year. In Massachusetts that number is even higher at 86%." This increase has a telling concurrent correlation with 6 million Americans (over 181,000 in Massachusetts) filing for unemployment claims around the same time. Seeking Arrangement promotes itself to those who are vulnerable in this way, notably those who are also increasingly pressured by economic context to accept sexual contact in the sugar dating relationship so that they can pay rent or buy groceries to live.
Further, Seeking Arrangement targets college students who are struggling with student debt with advertisements and free premium accounts, in order to provide sexual gratification to more socio-economically advantaged men.
One young woman who uses sugar dating to pay for college, commented on the overwhelming student debt facing her and her peers, she stated, "Maybe if the American college system wasn't as corrupt, then there would be a lot less people doing it, and I wouldn't have come across it."
Another former sugar baby and college student stated: "Without a doubt, you are putting yourself in an extremely vulnerable position. There is a reason the men have chosen SeekingArrangement over eHarmony.com and that is to have sex with younger girls." In the same article, one sugar daddy said, "I'd be lying if I didn't admit that having a very young sugar makes an already exciting experience even hotter."
Make no mistake, sugar dating is pseudo-dating prostitution and it is vital to push back against the normalization of such an exploitative trend.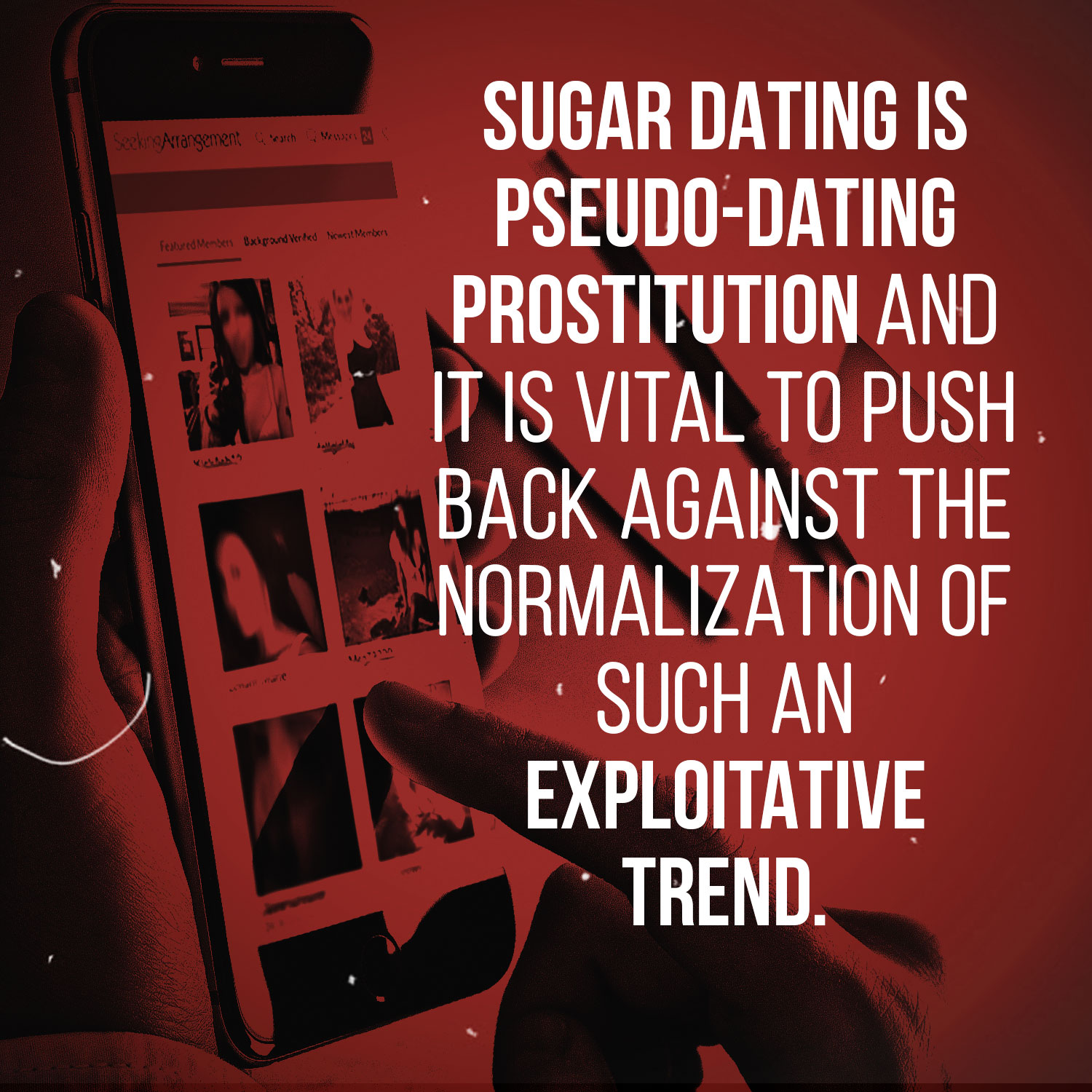 You can help take action!
While the Apple app store does not carry an app for the pseudo-dating prostitution site Seeking Arrangement, the Google Play app store does. Take action below and email Google Play to tell them to stop hosting this exploitive app!
And unfortunately, Visa and Mastercard are processing payments for exploitation. Email these major credit card companies and ask them to cut ties with SeekingArrangement.